Welcome Style diary, Closet Tour A series that investigates the physical symptoms of IRL. Ask your friends and taste makers to show you what you're wearing * actually * that week and give them some insight into their thoughts on the current state of fashion.Follow your own style editor this week Camille Freestone During her recent trip to Paris. In her favorite city of fashion, she found a way to balance her personal style with comfort.
In my own adult spring break attempt, I had the privilege of spending last week in Paris (which is important if you travel with your graduate sister!). Fortunately, tourist traps did not dominate our bucket list on this trip, as we both went to the City of Light many years ago. That said, rather than scheduling a minute-by-minute itinerary, our plan, well, included that lack. Our ensemble had to match that as we strolled around our favorite neighborhood looking for new places to haunt.
I am a person who often forgets comfort in pursuing style. In other words, the idea is that it is (to some extent) stuffy while packing. As a result, my footwear rotation featured loafers, flat knee-high boots, and western ankle boots. This was also my first long-term warm weather for a surprisingly long time. Rather than hollow clouds for a week, temperatures in Paris reached their lowest temperatures in the 1970s almost every day. Trading is a deal, as you often shop out of season! I had quite a few spring-like shopping in my closet, so it was a great time to wear them. Inform your looks with statement pieces such as printed wrap skirts, structured blue blazer, and white dresses with Swiss dots, and fill the gap with classic accessories such as Ray-Ban Wayfarer and a graceful black shoulder bag. ..
As I love everything that is unique, most of them wear vintages, so of course, looking for vintage discoveries in Paris also played an important role in our daily schedule. When I got a new piece, I started experimenting with items like old sailor uniforms, mixing them with the current staples. (Don't ask how it fits in an already overloaded suitcase on your way home.) Overall, I love what I wore. And most importantly, I didn't bring back the blisters as a souvenir. Take a closer look at my list of Parisian costumes that you can duplicate on your trip to the city below.
Look 1: Museum and walk along the Seine
One day on the first day in the city, I was full of travel-induced excitement and wanted to indulge in a more fashion-oriented look. Heading to Lingerie, I pulled out a Saint Laurent Rive Gauche blazer. Lawson was close to me because it was across the river from the left bank. Scored in New York. Designer revival.. Leaning on the energy of France, I added a ruffled striped shirt and leather pants to finish it all. And, of course, a classic black loafer that never disappoints (or rubs your feet).
Look 2: Relaxation on the left bank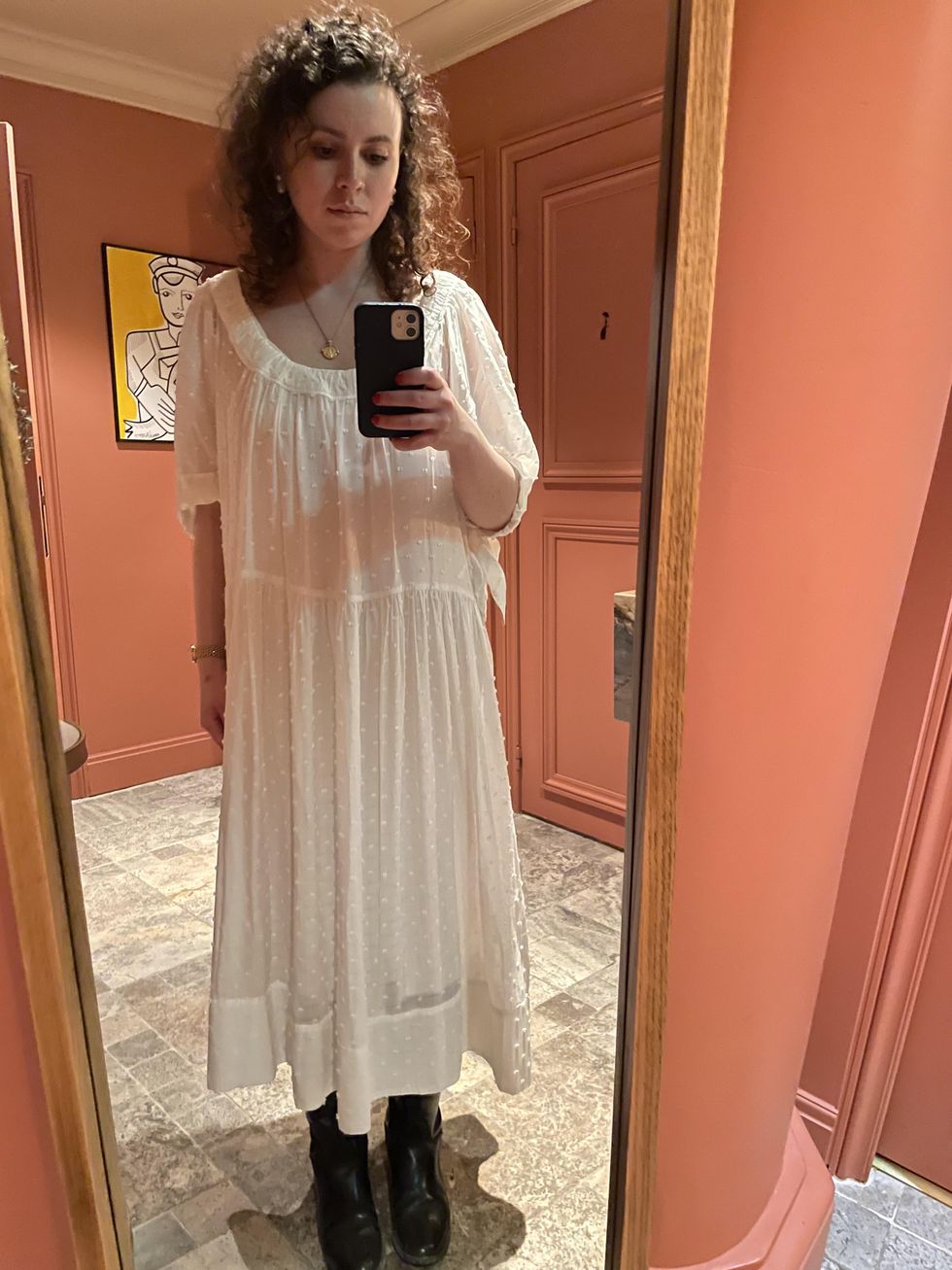 It was this day that the weather reached 70 degrees, so I wanted to dress up that part. I got this La Ligne dress at the pool shop last Christmas, and I'm crazy about it. The silhouette and production is a bit summery, so I've added weight in the form of Etsy (which now boasts a cost ratio per piece of clothing I'm very proud of) and old riding boots that have been stalking for months in London. A trench of fog from a residential factory on the Upper East Side. I took a walk on the Seine at noon and enjoyed it.
Look 3: Montmartre Cafe Hopping
On this day, we walked down the winding cobbled streets of Montmartre and climbed * many * stairs. To rest our tired soul (and my GH Bass sole), we flew from the cafe to the bistro to the Pigalle bar. One of my favorite looks on the trip, I was itching to win this vintage Prada wrap skirt at RealReal this winter and pull it out. Taking full advantage of the wonderful weather, I chose bare feet. This is one of the first Poa Moi of the season. A men's Oxford shirt (I think I paid $ 5 for this Perry Ellis at a thrift store on the outskirts of Texas) and a navy oversized blazer (another old Prada, Old Faceful) balanced the proportions. The classic brown loafers tighten the ultra mini hemline for a perfect finish.
Look 4: From YSL Museum to Fromagerie
We started the day at the Yves Saint Laurent Museum, walked the entire city, and wasted the night with the lovely Fromagerie. After being absorbed in a selection of French drinks the night before, I just wanted to be comfortable. And I didn't have to think about clothes. This Scanlan Theodore dress has become a staple of my closet this spring. The classic silhouette is very comfortable and fits anything. I wanted to combine it with brown loafers instead of a black look, so I added gray ankle socks and a red silk scarf to split the color palette.
Look 5: Explore Male
and Episode Vintage In District 2, there is an old Japanese JK uniform top rack that I couldn't resist. It tells Gucci "Love parade"Energy in the most wonderful way. To prevent the schoolgirl from running out of energy, I chose my favorite loose bootcut silhouette jeans and black western ankle boots this spring. As for accessories, Ray-Ban Wayfarer and daily black bags kept the classics.Instead of choosing a flashy Parisian souvenir Emily in Paris Eiffel Tower trinkets, I added items like this to my repertoire to subtly convey the origin of France.
Look 6: Other museums and cafes
I'm sure this vintage dress is really a children's dress. Is it 10 years for size 10? But that's all that matters because I like it. In addition to the energy of a serious "French girl", the entire costume of One Piece, so I couldn't resist throwing it in my suitcase. The final look is very simple. Tall boots that match the mini hemline and trenches to keep you warm. My comfortable color palette is black and navy — do you know?
window.REBELMOUSE_ACTIVE_TASKS_QUEUE.push(function(){
var makeMonitor = (getStatus, cb, delay) => { delay = delay || 100; var monitor = () => { var time = +new Date(); var status = getStatus(); if (status) { return cb(status); } else { if (!stopMonitor && +new Date() - time < 30 * 60 * 1000) { monitorId = setTimeout(monitor, delay); } else { cb(false); } } }, cancel = () => { stopMonitor = true; clearInterval(monitorId); }; let monitorId, stopMonitor = false; return { start: monitor, cancel: cancel, }; };
var leftArrowCarrousel = makeMonitor( function () { return document.querySelector( ".shop-sidebar.shop-posts .posts-wrapper .slick-next" ); }, function (res) { res.addEventListener("click", () => { gtag("event", "Left Arrow Click", { event_category: "Shopping Module", event_label: "Previous product at carrousel", }); }); } );
leftArrowCarrousel.start();
var rightArrowCarrousel = makeMonitor( function () { return document.querySelector( ".shop-sidebar.shop-posts .posts-wrapper .slick-prev" ); }, function (res) { res.addEventListener("click", () => { gtag("event", "Right Arrow Click", { event_category: "Shopping Module", event_label: "Next product at carrousel", }); }); } );
rightArrowCarrousel.start();
var buyButton = makeMonitor( function () { return document.querySelectorAll( ".shop-sidebar.shop-posts .posts-wrapper .widget__product-buy-link-btn" ); }, function (res) { for (let button of res) { button.addEventListener("click", () => { gtag("event", "Buy button click", { event_category: "Shopping Module", event_label: `${button["href"]}`, }); }); } } );
buyButton.start();
var imageShopp = makeMonitor( function () { return document.querySelectorAll( ".shop-sidebar.shop-posts .posts-wrapper .widget__head a" ); }, function (res) { for (let image of res) { image.addEventListener("click", () => { gtag("event", "Image click", { event_category: "Shopping Module", event_label: `${image["href"]}`, }); }); } } );
imageShopp.start();
var productTitle = makeMonitor( function () { return document.querySelectorAll( ".shop-sidebar.shop-posts .posts-wrapper .widget__headline .widget__headline-text" ); }, function (res) { for (let product of res) { product.addEventListener("click", () => { gtag("event", "Product title click", { event_category: "Shopping Module", event_label: `${product["href"]}`, }); }); } } );
productTitle.start();
});
window.REBELMOUSE_ACTIVE_TASKS_QUEUE.push(function(){
window.REBELMOUSE_STDLIB.loadExternalScript("https://s.skimresources.com/js/150311X1615657.skimlinks.js", function() {
});
});
window.REBELMOUSE_ACTIVE_TASKS_QUEUE.push(function(){
!function(f,b,e,v,n,t,s){if(f.fbq)return;n=f.fbq=function(){n.callMethod?n.callMethod.apply(n,arguments):n.queue.push(arguments)};if(!f._fbq)f._fbq=n;n.push=n;n.loaded=!0;n.version='2.0';n.queue=[];t=b.createElement(e);t.async=!0;t.src=v;s=b.getElementsByTagName(e)[0];s.parentNode.insertBefore(t,s)}(window, document,'script','https://connect.facebook.net/en_US/fbevents.js');fbq('init', '1248680838922690');fbq('track', 'PageView');
});
window.REBELMOUSE_ACTIVE_TASKS_QUEUE.push(function(){
window.REBELMOUSE_STDLIB.onElementInViewport({ threshold: 400, selector: "video", oneTime: true, onIntersect: function(entry){ var element = entry.target; element.setAttribute("allow","autoplay"); element.loop = true; element.muted = true; element.autoplay = true; element.setAttribute("playsinline","true"); //element.controls = false; element.play(); } });
});